In Inuvik, the priority was a trip to the car wash to reduce the load of mud on the truck.
We managed to find a cabin at the Arctic Chalet. The owners keep sled dogs, and, in the summer, exercise them by hitching them to ATVs rather than sleds. The dogs, beautiful white huskies, live in high tech kennels, and howled and barked whenever they saw Capi.
In Inuvik, for 6 weeks on either side of the Summer Solstice, the sun does not dip below the horizon. We were there on the last night of that 6-week period. Of course, it was raining and cloudy, but the daylight is a little unsettling. The huskies seemed to know when it was bedtime, and they curled up in their kennels and went to sleep around 10 pm.
We got up in Inuvik, grabbed some supplies and gas, and headed for Tuk. The road was relatively busy. Aside from the tourists heading to Tuk, there were berry pickers and fishermen, and the occasional survey crews.
By the time we got to Tuk, I was feeling jubilant. Tierra del Fuego to Tuktoyaktuk. So cool. Driving into Tuk was like driving into a town I already knew. It is on the ocean, a fishing and subsistence hunting community and felt familiar. The end of the road is "The Point". It is the mecca of all the travelers.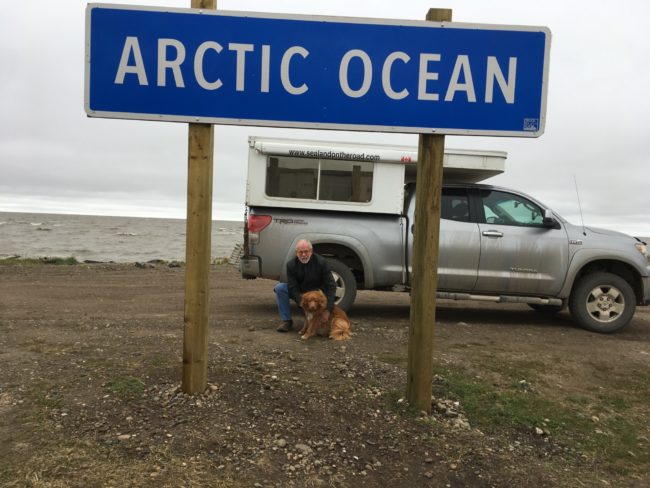 Us. There!
The wind rattled the truck and waves broke over the rocks, but there was a sheltered beach. So Capi swam in the Arctic Ocean.
We talked to some of the locals as we explored. The two men who were restoring an old sod house talked to us about their language. Gwitch'in is spoken on the radio, and I assumed the kids learned it as a first language. No, the kids prefer to talk in English and spend all their time glued to their computers. They said the cold and wind we were experiencing was unusual, more like September weather.
Those men also told us about the sharks and killer whales that are now in arctic waters, that they have never seen before. The hunters that go out on the ice are seeing them. There is no word in their language for shark.
Out of curiosity, I looked in a dictionary. The locals have about 10 words for snow in various forms, 5 words for mud and no words for shark.
It was too cold and windy for us to want to camp in Tuk, so we called the Arctic Chalet in Inuvik and booked another cabin for the night. The huskies seemed pleased to see us.
The two ladies who stayed next to us had just paddled from Jasper to Tuktoyaktuk. They were elated to be in Inuvik. They weren't young, and they didn't look like athletes. I know when I am completely, utterly outclassed.